We are looking at the poems of Christina Rossetti this week.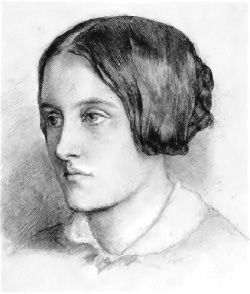 Christina was born in England to an Italian father and and English-Italian mother. She was also the brother of the great artist, Dante Rossetti, who often used her as his model. Christina never married, turning down proposals from two men because of her faith. She was a devoted Anglican and loved nature and many of her poems reflect those two loves.
This is one of our favourites so far:
A linnet in a gilded cage,-
A linnet on a bough,-
In frosty winter one might doubt
Which bird is luckier now.
But let the trees burst out in leaf,
And nests be on the bough,
Which linnet is the luckier bird,
Oh who could doubt it now?

Male Linnet
From the Royal Society for Protection of Birds