This week we are looking at the poems of Phillis Wheatley. We have been learning about the early settlers to the New World in our history, and this week's lesson was about the first slaves brought to America.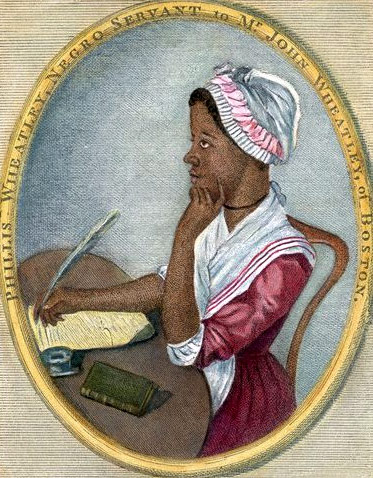 Phillis Wheatley was one of those slaves. Here are some narrations the girls have written about her life.
Phillis Wheatley
by Emily
Born in around 1753 in Africa, Phillis Wheatley was the second woman in America to publish poems. At the age of eight, she was captured to be a slave, and a Boston tailor, Mr. John Wheatley, bought her. After learning the English language in just sixteen months, Phillis wrote her first poem, an elegy, when she was thirteen. It was called "On the death of the Rev. Mr. George Whitefield." In 1770 Phillis published her first poems. She wrote many poems describing her being brought to America from Africa. When Mr. & Mrs. Wheatley died, Phillis was released and married a freed black man, John Peters. Two of her three children died in infancy, and in 1784, when she was thirty-one, Phillis and her last child died in poverty.
Phillis Wheatley
by Bethany
Phillis Wheatley was named after the ship that took her from Africa to America. She took the last name of Wheatley from the people who bought her. Phillis was eight when she became a sevant to the Wheatleys. She wrote lots of poems and elegies. Before they could be published, she had to go to London and have several men's signatures on her work to show that she had actually written it. When she grew up, she married another African-American called John Peters. Two of her three children died, and at thirty-one, Phillis too died.
Phillis Wheatley
by Ainsley (8 years)
Phillis was born in Africa and captured when she was 8 years old. She was sold to an American tailor in Boston (his name was John Wheatley). Phillis became attached to the tailor's wife immediately after she became her servant. Mr & Mrs Wheatley had two children called Mary and Nathaniel (they were twins). Phillis got her name from the ship she went in from Africa to America, she got her last name from the Wheatleys. Her first book was "Poems on Various Subjects, Religious and Moral," and was printed in London. When Phillis returned from her trip to London the Wheatleys freed her and she stayed living with them. Mrs Wheatley died in March of 1774. In 1778, Phillis's tutor, Mary Wheatley and her father John Wheatley died and Mary's twin Nathaniel was living overseas in England. That same year Phillis married a free black Bostonian named John Peters. Phillis died on December 5, 1784 at about the age of 30 and her baby passed away a short time later. And that is the story of Phillis Wheatley.
Phillis had a strong faith in God, and this was the basis for most, if not all, of her poems. The following poem was written regarding her being brought to America as a slave.
On Being Brought from Africa to America
'TWAS mercy brought me from my Pagan land,
Taught my benighted sould to understand
That there's a God, that there's a Saviour too:
Once I redemption neither sought now knew,
Some view our sable race with scornful eye,
'Their colour is a diabolic die.'
Remember, Christians, Negroes, black as Cain,
May be refin'd, and join the angelic train.
We all enjoyed reading Phillis's poem about David and Goliath. Here is an excerpt where she describes Goliath:
"When from the camp of the Philistine foes,
Dreadful to view, a mighty warrior rose;
In the dire deeds of bleeding battle skill'd
The monster stalks the terror of the field.
From Gath he sprung, Goliath was his name,
Of fierce deportment, and gigantic frame:
A brazen helmet on his head was plac'd,
A coat of mail his form terrific grac'd,
The greaves his legs, the targe his shoulders prest:
Dreadful in arms high-tow'ring o'er the rest
A spear he proudly wav'd, whose iron head,
Strange to relate, six hundred shekels weigh'd;
He strode along, and shook the ample field..."
~ Phillis Wheatley, Goliath of Gath, Samuel chapter 17.
You can read the rest of the poem here.
A free PDF download of Phillis's poems can be found at Poem Hunter.com.