This morning we had another History lesson, which hasn't happened in a long time! Our dear friends with whom we used to get together for History and IEW lessons have packed up and moved to North Dakota, where my friend is originally from. We will miss them dearly, but we will carry on alone, sniff sniff! We are using Story of the World Volume 2: The Middle Ages. Today's lesson was about Marco Polo, the explorer to China who travelled the Silk Road along with his father, Niccolo.
So, don your paper bag Chinese hat and come along with us:
First up, we must pass through the hot and treacherous Taklamakan Desert:
We'll stop for a rest on a comfy chair and enjoy a snack at the oasis of Tun-huang-shih:
We must now pass south of another desert, the Gobi Desert:
The Gobi Desert is not so treacherous, it has some oases along the way, so let's stop and have a glass of water.
We'll take a rest and have another snack at Loyang-shih.
Now we'll take the Yellow River to Peking: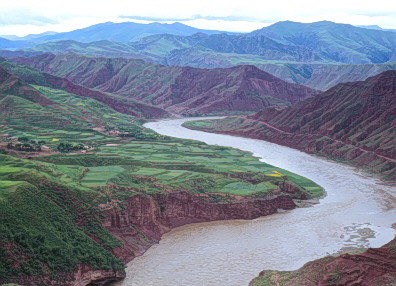 In Peking, we can trade for Chinese goods:
and visit the Emporer, Kublai Khan in his palace:
Here we will find gold, ivory, silk and exotic animals.
We'll relax here and then return home to Italy.
It'll take us about four years ;-)
Hope you enjoyed the journey with us. Thanks Susan Wise Bauer, we are loving the Story of the World!
~~~~~